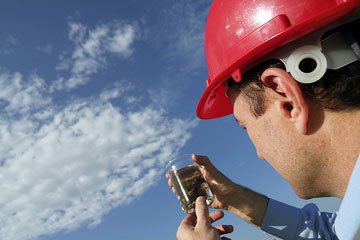 Environmental engineers help develop solutions to environmental issues such as water and air pollution, recycling, and waste disposal through the use of biology and chemistry principles. They conduct hazardous water management studies and develop regulations, design municipal water supply and industrial waste water treatment systems, research the environmental impact of proposed construction, and perform quality control checks. Some environmental engineers work as consultants to aid clients in regulation compliance.

Environmental engineers must have a bachelor's degree and should be strong in science and mathematics. In all 50 states and the District of Columbia, licensing is required for environmental engineers who offer services directly to the public. The licensing exam must be completed in two parts; the initial Fundamentals of Engineering (FE) can be taken upon graduation from an accredited four year program, and the Principles of Practice and Engineering can be completed after four subsequent years of environmental engineering experience.

Environmental engineers should be inquisitive, analytical, detail oriented, and creative in order to come up with unique solutions to pressing environmental problems. They also need excellent oral and written communication in order to effectively communicate their research findings and ideas. Experienced environmental engineers may advance to supervise a team of engineers and technicians, or they may become engineering managers.

Environmental engineers are expected to see much faster than average employment growth. For more information on careers for environmental engineers, visit the American Academy of Environmental Engineers website.
Related Directory Pages
---
About Environmental Engineers